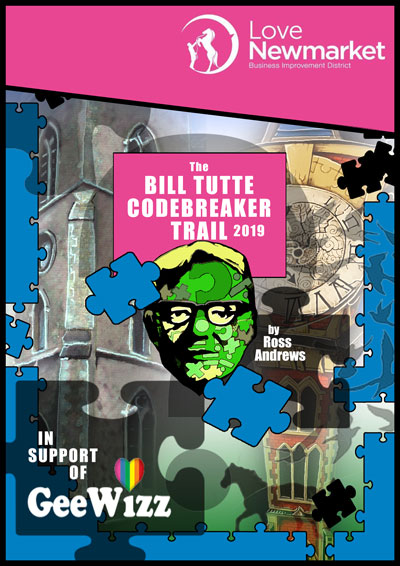 The Bill Tutte Codebreaker Trail 2019 launches in two weeks, on Saturday 15thJune, bringing with it 8 puzzling weeks of clues and secret messages. Can you solve the puzzle to win one of our TWO PRIZES?
A riddle that lasts the whole summer, The Bill Tutte Codebreaker Trail will put your minds to the test as it combines a book of cryptic messages with clues spread throughout the town and across our website.
The first person to solve the trail will win £150 of vouchers to spend in the town, and a second place is up for grabs offering £100 of vouchers … so how do you get involved?
Launching at the Celebration of Armed Forces Day, held throughout the town on Saturday 15thJune, visit the Codebreaker stand to get hold of your book of clues, priced at £2. Books will also be available from these local businesses after the event:
Mountain Warehouse, Guineas Shopping Centre
M&Co., High Street
The Gallops Tea Room, The Island, Fred Archer Way
Hughes Electrical, High Street
My Fotoshop, High Street
The Makers Shelf, Old Station Road
Tindalls News, High Street
Newmarket Library, Guineas Shopping Centre
Moons Toy Store, High Street
Studio Scribbles, Sun Lane
Palace House Gift Shop, Palace Street
Work through the pages to locate the clues and numbers needed to crack the code. But fear not, this is not designed to be an easy task, so we will place 8 clues around the town of Newmarket, revealing a new one every Tuesday in the lead up to the deadline.
Further hints will be added on our website and social media channels to help you along your codebreaking journey.
Are you up to the challenge?
We promise this is no easy feat. In fact we encourage as many minds to get involved, old and young, to see who can crack our mystery code the fastest. Entry forms will need to be delivered to the Codebreakers Post Box, located in the Guineas Shopping Centre on or by 27thAugust 2019. Winners will be announced on 30thAugust 2019.
We're proud to be donating 50% of the profits from this event to support our charity of the year, The GeeWizz Charitable Foundation. The charity helps and supports children and young people across West Suffolk, and is a charity we're particularly proud to support with all our events in 2019.
We are also delighted to be able to honour one of Newmarket's key heroes from the past 100 years with this summertime mission. Bill Tutte was born in Newmarket in 1917 and went on to be one of the world's best codebreakers.
Perhaps this trail may inspire our younger audience to follow closely in his footsteps…